OHS stairs are open
Steps in use after long road

By MARK NEWMAN Courier staff writer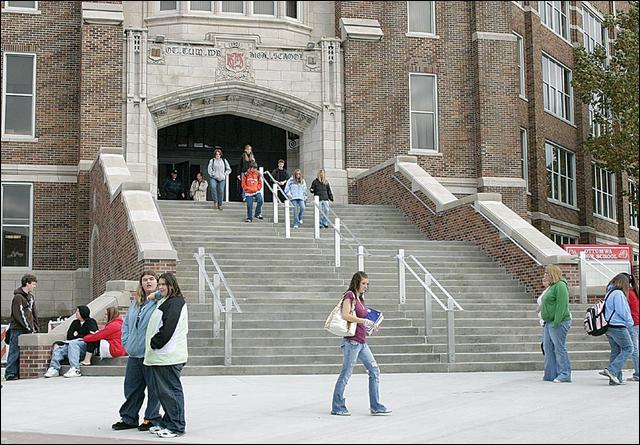 OTTUMWA — The school board wasn't present, nor the mayor or the chamber of commerce. Yet even without an official ceremony, the new steps at Ottumwa High School were clearly open Monday for the first time; high school students dashed down the stairs at 3 p.m. toward school buses waiting to take them home.
"Our lockers are on the third floor, so it's quicker to go out by the stairs," said Emily Rustad, an OHS junior.
Students this year had been using the cafeteria entrance, one floor further down.
While there might be students who find use of the monolithic stairs a sentimental or even historic journey, for Rustad they were basically "a way in and out of the building."
Josh Miller, a sophomore, did say it was kind of interesting that his older brother, an OHS graduate, used the stairs and now he'd be using them, too.
Yet they are different stairs than his brother used.
The Ottumwa school board held two public meetings in 2005 on what to do about the 80-year-old set of steps that graced the front of the building. Engineers and maintenance workers had said the stairs were no longer safe.
A community committee organized by the district made a recommendation: Knock down the OHS stairs to put in a ground-level entrance. There would be no steps, just a short ramp.
The board decided to listen to the study committee. However, after the board voted, members of the community reacted. Once again, the board decided to listen. This time, it was to a 2,000-signature petition and pleas from alumni to the board: "Save our steps!"
In a rare move, the board allowed a revote. There would be stairs.
The new plans included a reproduction of the monolithic steps, created with modern materials.
The new stairs cost about what the old stairless plan did — about $500,000.
"We're very happy and satisfied; we think they're very beautiful," said Joyce Amos of Ottumwa, the OHS alumna who started the petition drive to keep the stairs.
Amos said they look like the 1920s structure.
"I think they did a wonderful job matching the brick," she said Monday.